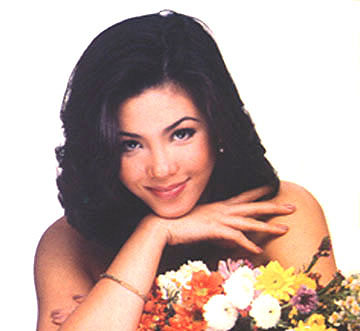 ---
· Real Name - Regina Encarnacion Asuncion Velasquez
· Birthdate - 22nd April 1970
· Birthplace - Manila
· Starsign - Taurus
· Parents - Tessie and Mang Gerry
· Siblings - Sister Cacai,Brother Jojo, Twin sister Diane and Deca
· Websites - Regine's Dainty Page, Regine Velasquez Online

Regine was born in Manila, Philippines on April 22,1970. She came from a poor family. The family was so poor that her mother would not eat so she can give it to her children. They didn't have any TV so they would go to their neighbor to watch - the neigbor was very rude to them, they also didn't have water so they would shower under the rain with soap!
They moved to Leyte where she was trained by her father in the sea of Henundayan Southern Leyte. At age 9, Regine and her family moved to Bulacan. She has a younger sister named Cacai (married), a younger brother named Jojo, and twin sisters, Diane and Deca(married..not sure).
Regine credits her parents for getting her involved in the music business when they let Regine join singing competitions in remote provinces, and to undergo intensive singing lessons led by her father.
Regine was submerged into the water up to her neck and was singing. She also sacrificed eating ice cream until 15 yrs. old.
There were a lot of singing in Regine's house. At two to three years of age, Regine's dad would sing lullaby to get her to sleep and the songs usually her dad would sing was, "You'll Never Know." That was the reason why she doesn't know any nursery rhymes.
At the age of three to four, Regine can interpret a whole song. She sang songs of Carpenters like "Close To You," and songs from Imelda Papin like "Bakit." ("Why") It was one of Regine's favorite as a child, and now her over all favorite singer is Barbara Streisand.
Regine had so many ambitions, she wanted to be a nun, nurse, doctor, but by the age of six, she finally decided that she wanted to sing, so she joined in amateur singing contest. The very first song she sang in a contest was entitled, "Buhat Ng Kita'y Makilala" ("Ever Since I Met You"). Regine didn't know how to read at that time so her father would sing it to her and she would memorize each word her father had sang. Regine lost that contest, but was given a special award for the brave performance. Among 200 competitions she joined in, Regine won 67 of them.
The schools she attended were Henundayan Central School, Southern Leyte; Balagtas Central School(both elementary school); and St. Laurence in Bulacan (high school). She attributes her good English diction to her years at St. Lawrence and to her favorite foreign singers.
In 1984 Regine got herself a career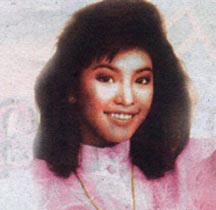 At the age of fourteen, Regine joined in Bagong Kampeon ("The New Champion") her qualifying song was "Saan Ako Nagkamali" ("Where Did I Go Wrong") chosen by his father, and later on Regine won the grand prize competition with her winning song, "In Your Eyes," a song suggested by Professor Dominic Sulistiano and was originally performed by George Benson. Regine was unbeatable for weeks until she won the grand prize.
As her winning prize, Regine got a record deal from Octo Arts Int'l. She recorded a single called, "Love Me Again," using the name "Chona Velasquez," but the single failed to make it in the charts. It was revived by Jamie Rivera years later.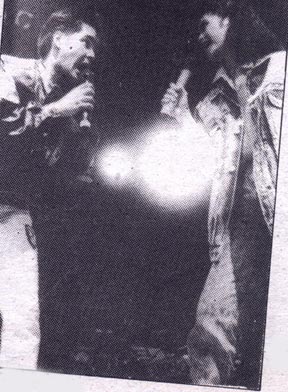 Despite the flop of her single, Regine was invited as guest in a show called, "Penthouse Live" by Pops Fernandez, a singer host - on February 16, 1986. During the show, Ronnie Henares, who's the producer of Penthouse Live was so impressed with Regine that she offered her managerial contract. Regine accepted the offer. So her career started.
In 1986, Mang Gerry resigned from his job as a construction estimator, and went full-time attending to her daughter's budding career. Regine became the breadwinner of the family, sending her siblings to school and now they all have graduated, except for brother Jojo, who's taking up Dentistry.
In 1987, Regine's earnings in Coke tour led her to buy her first second-hand Toyota Corolla car. She was so proud of it saying she bought it with her sweat and blood. She now owns a Chrysler van!
The first TV variety show she did was "Triple Treat" with Keno, Randy Santiago, and Gino Padilla.
In 1988, she was offered to do a TV variety show. The Sunday TV variety show she'd host was "Teen Pan Alley" with with Janno Gibbs, Bing Loyzaga. Both shows on Channel 2.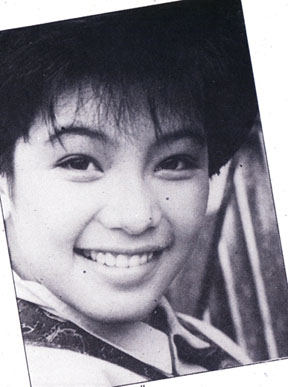 In 1988, Regine cut her hair short out of protestations that she was not given a chance to stage her first concert entitled, "True Colors" because "The Jets" were performing on that same day which was on her 18th birthday. It was on that same year good things started to happen.
In 1989, Regine was chosen to represent the Philippines in the "Asia-Paciific Singing Contest" held in Hong Kong. At first Regine declined, but with much convincing from her friends she agreed to represent the country. And on Dec. 23, 1989, Regine won the grand prize with her song, "You'll Never Walk Alone" and "And I'm Telling You."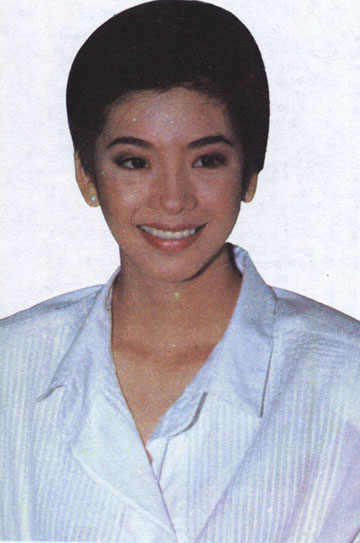 In 1990, Cameron Macintosh Group, makers of "Les Miserbles" and "Ms. Saigon" gave Regine and other Philippine's finest singers (Dulce, Jamie) round trip plane tickets for a special audition in New York. Cameron Macintosh was so impressed that she offered roles for Regine and Jamie Rivera, but Regine declined the offer and stayed in the Philippines, because she felt that she didn't have enough stage experience and she was uncomfortable doing delicate scenes.
By 25, Regine became an International (Asian) Recording Artist. She became well-known in Hong Kong, Singpore, Malaysia, Taiwan, Korea, Bangkong with her album, "Listen Without Prejudice" (Regine's favorite album!) and collaborated with Jacky Cheung for the song, "In Love With You"
She made other successful Asian album releases like "My Love Emotion, and "Retro."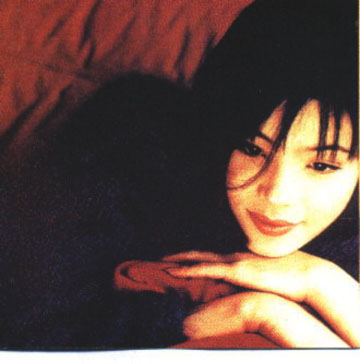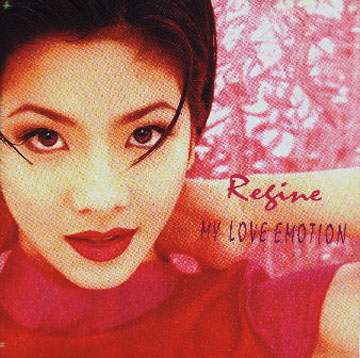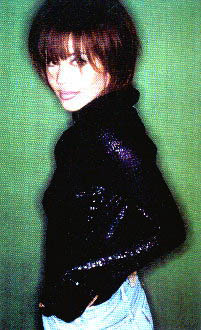 Deciding to help lahar victims from a Rolex watch
Regine became socially involved when she donated relief goods for lahar victims in Pampanga instead of buying herself a Rolex watch. Regine had also given her collection of stuff toys to streetchildren. Regine even put out an album cover with the streetchildren, and treating them to Enchanged Kingdom!
Courtships/Relationships
Regine was wooed by Herbert Bautista during the 80s, he is now Vice Mayor of Quezon City. Regine remembered Herbert following her car all the way to her home in Bulacan, and would just give her fruits and would go home afterwards. Regine considers it as a very sweet act.
Regine also recalled a Chinese guy who courted her. The guy gave her an enormous supply of tikoy, a chinese delicacy, and she got tired of eating tikoy later on. Another is a guy who wrote her a long love letter and visited her to her house. The guy was surprised to see Regine when she came out to see him, because she was not wearing any make-up. The guy told Regine that she looked different in person.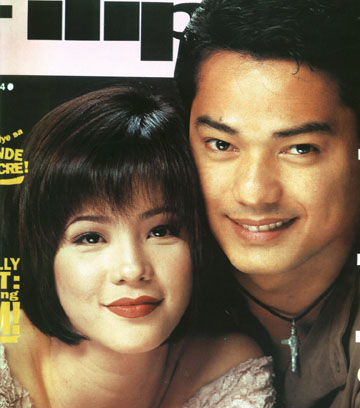 Regine had one special man who filled up her joys. Although short-lived, this wonderful experience had equipped and improved her singing style - adding more depth and emotion.
The relationship started in Dec. '94 and ended latter part of Mar. '95. The song she dedicates to her ex-significant other is "You've Made Me Stronger."
They parted as friends.
While recovering, Regine was doing tons of projects: concert/shows, album lauches, movies and even won international and local awards.
Movies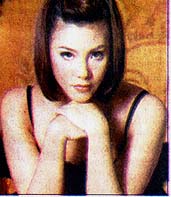 Regine was also busy doing movies like, "Wanted Perfect Mother,"DoReMi," "Honey Nasa Langit Na Ba Ako?"(English:"Honey, Am I in Heaven?") and recently released, "Dahil May Isang Ikaw" (English: "Because There's Someone Like You").
At Present
Regine's contract with PolyCosmic Records and her managerial contract with Ronnie Henares has already expired - Regine did not renew her contract so, as of this moment she and her dad, Mang Gerry are the managers of her career.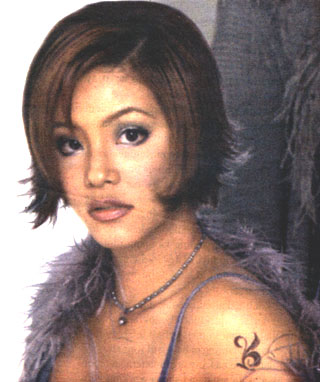 Regine has released a new album entitled, "Drawn" under Viva Records/Mark Feist Company, and is currently doing well in the market as her album turns triple platinum. She plans to penetrate the US market soon. Watch out for Regine here she comes!
Copyright 1999
For comments, corrections, questions, and contributions...
pls. feel free to e-mail me both at:
wink@fastmail.i-next.net;
blink33@hotmail.com