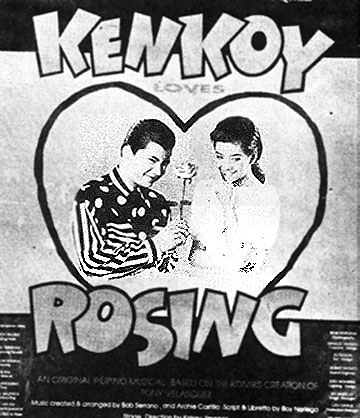 Kenkoy Loves Rosing
Theater
SHOWDATE
: August 2, 3, 10, 11, 17, 18, 24, 25, 31 September 1, 1990 or 1991
VENUE: Music Museum, Greenhills San Juan
STARS : Janno Gibbs, Mitch Valdes, Noel Trinidad, Joji Isla and Regine Velasquez
ROLE: Regine as Rosing
CATEGORY: Musical-Comedy on the well-loved 'Pilipino Komiks' classics created by Tony Velasquez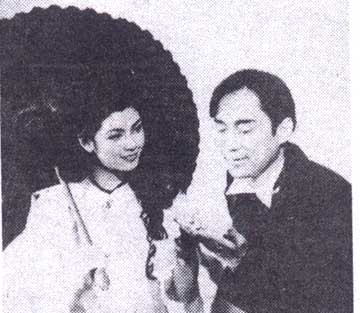 Noli Me Tangere (Play/Theater)
SHOWDATE
: July 14 - August 6, 1995
VENUE: CCP Main Theater, Roxas Blvd., Manila
STARS : Audie Gemora, Monique Wilson, Bernardo Bernardo, and Regine Velasquez
ROLE: Regine as Maria Clara
PLOT: Maria Clara, daughter of a Spanish priest. Maria Clara was concealed of this realization until one day she finds out. Meanwhile, Crisostomo Ibarra falls in love with Maria Clara and becomes an outcast in the society while rescuing the country from the abusive powers of the Spanish government to the Filipinos.
Noli Me Tangere - Feedback/Review:

The play opens on a somber note, cast walking down the isles holding clay figures and offering them to a crocodile figure onstage.
Ibarra emerges as the rest of the cast take positions around the platform. A mad Sisa bursts in running to and fro.
The songs encompass a wide range of human emotions, intermingled with strong nationalistic themes. The powerful voices of Audie and Regine wrap the audience with their music. The chorus more often than not tended to drown out the characters' voices making it hard for the audience to understand with the lyrics.
An odd and amusing scene is when Ibarra's slain father was portrayed as sketleton frame and Ibarra held it and sung a song of pain and sorrow. It reminded the audience of Shakespeare's "Hamlet."
The scene was magnificent, enhanced with superb lighting as the "heroes" emerged, and disappeared beneath.
Regine Velasquez is a revelation in her first dramatic role as Maria Clara. We are all aware of her singing ability, yet we were curious to see if she could act. It turns out, Regine was perfect for the role, with her voice expressing a young girls joy and the pain of giving up the one she loves.
One of the most beautiful songs in the musical was when Ibarra and Maria Clara part ways with both pledge their undying love for each other.
Costumes are well designed, reminiscent of the era, especially the ternos worn by Regine.

CATEGORY: Drama, political story

The Untouchable Family
RELEASED
: 1987
STARS : Edgar Mortiz, Redford White &
INTRODUCING: Regine Velasquez
ROLE: Sheila, a grand daughter of a mafia clan
PLOT: Three groups of mafia involving in bank robberies and other crime tries to deceit and betray each other end up getting caught by the bureau of investigation.
Meanwhile, Sheila gets abducted by one mafia gang and a handome man named Pretty Boy appears to be having interest on her, as he expresses his love to Sheila.
CATEGORY
: Comedy
MY COMMENT
: The film basically is a typical non-sense, irrelevant story. It has a slight touch of the original film, "The Untouchables," from the title. However, the quality and the budget put on to this is nothing compared to "The Untouchables."
There are some unbelievable scene and overly silly humor and actions displayed by the actors, which isn't funny at all. Makes-you-wanna-creep-out-of-ur-skin film. This is a typical classless film made in the 80s. --- sorry I'm a bad critic, but it's true.
Regine who starred in this film had a cameo role. She sang the songs, "Didn't We Almost Have It All" by Whitney Houston when the camera started to roll and the song, "Urung Sulong."
She wore a 3 piece clothing, those acid wash blue denim pants and jacket and a yellow long sleeves inside the jacket and a white belt. Her hair was worn in pony tail and white lace, she looked so lean and kinda shy. Her other costumes were the big sized, covering the neck, long sleeves printed blouse and black tights, and 'duster,' and pink 3/4s polo tucked in denim blue pants, white belt. The last piece of clothing is sort of brown over sized printed blouse and denim matching with brown no socks shoes.
Pik Pak Boom
STARS
: Herbert Bautista, Dingdong Avanzado, Bing Loyzaga and Regine Velasquez
RELEASED
: 1988
ROLE: Regine is a brilliant student who relies on her scholarship from Bing Loyzaga's dad.
PLOT: All four of them are good friends at school. Their lifestyles are the only difference: Herbert and Regine are poor while Bing and Dingdong are rich. When Herbert was kicked out of the house by his grandmother, Dingdong came in to help out by renting a room at Regine's boarding house. Dingdong called up Bing to join them as well. Later on, Dingdong finds out he's in love with Regine and Herbert in love with Bing. They went out of their way to establish a business by selling banana-q and graduates from high school.
CATEGORY
: Drama-musical Comedy
MY COMMENT
: The movie is a fun to watch and funny as well. This is a film better than her first. The nicest part here is Regine and Dingdong came out with a duet, which is why I discovered I am a Regine fan after seeing the film. The song goes "Kung aaminin ko na mahal kita , oh hindi kaya sa akin matawa kung sakali man ika'y ibigin ko, oh ako kaya'y ibigin mo. Kung kaibigan lamang ako sayo higit pa ang nais ko, oh…woh oh ganyan din ang siyang nais ko ngunit ang hirap sabihin."
And Regine has more scenes here so u'll get to enjoy seeing her act. Although, not challenging enough to see her craft.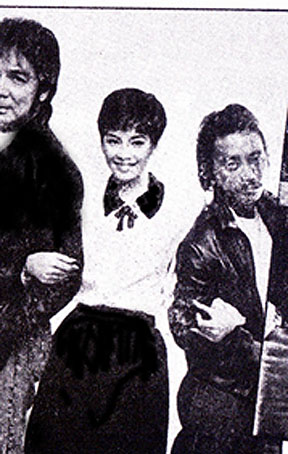 Elvis and James 2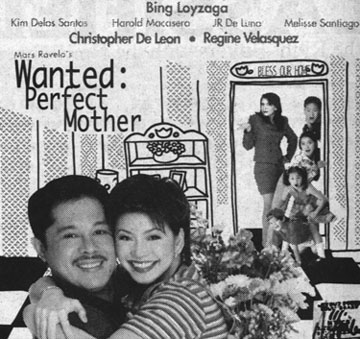 Wanted: Perfect Mother
Released
: May 8, 1996
STARS : Christopher De Leon, Bing Loyzaga, Kim de los Santos, Mumay and Regine Velasquez
ROLE: Regine, a music teacher/tutor
PLOT: Christopher de Leon plays a widower in search of a perfect teacher to help him with his nuisance kids. His search comes to an end when he employs the services of a music teacher, Regine, she used to be in a band playing in clubs (clothes were sooo hip, Regine is sooo hip too) until she gets the job, but was kicked out of her pad so Christopher offered her to stay in their house for a while until she finds a place to stay. The children became closer to Regine and to Christopher. Until one day Regine and Christopher retorted in the argument of her daughter and in front of the kids. Regine got hurt and left the house. The children became so lonely and sad so Christopher went to look for Regine and found her singing in a club one night and was reunited to them.
CATEGORY: Drama-musical Comedy
MY COMMENT: Regine did a good performance in this movie, her acting was so natural and real. She shed tears in some of the scenes. She really studied her role…good job!! The story has more depth and it featured lots of her scene. I like the first part of this film, the one where she sang in a club and where she wore the red leather dress with a black see thru underneath the dress and black with holes knee high socks. She's really sexy and hip there, even the make up was superb! The other one is when they went to the beach and Regine was in a sexy swimming suit and shorts dancing and singing. It's a cutie!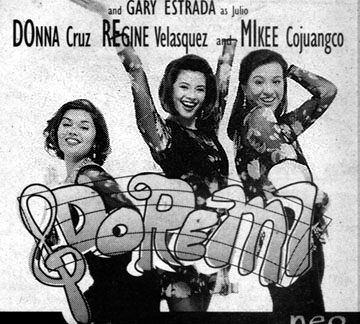 DoReMi
Released:
November 13, 1996
STARS : Donna Cruz, Mikee Cojuanco and Regine Velasquez
ROLE: Regine plays a deejay in a radio station who aspires to be a singer.
PLOT: The story begins when three girls with diverse backgrounds brought closer to each other by music.
Mikee plays the tomboyish type brought up by four macho brothers in a closely-knit family, "a social crusader"
Whose parents are frustrated singer so they keep pushing her into becoming one.
Regine is the lola's girl whose ambition is to be an international recording star, falling in love with the wrong guys on her way to stardom and whose usual line is "My grandma says."
Donna plays a Political science graduate from an upper-class family, fond of fashionable clothes and who could be a good singer but is interested in something else.
Together, the three girls put up a restaurant/karaoke bar in the province to hide the fact that they were denied entry in Japan due to fake papers. They realize that music done can get help them find the answers in their lives. Until they were discovered by a talent scout, Donna and Mikee backs out in the signing of contract leaving Regine by herself.
CATEGORY: Drama-musical Comedy
MY COMMENT: Certainly Regine has improved so much in her acting. I like the film it makes you laugh and cry a little. She's also dashing here.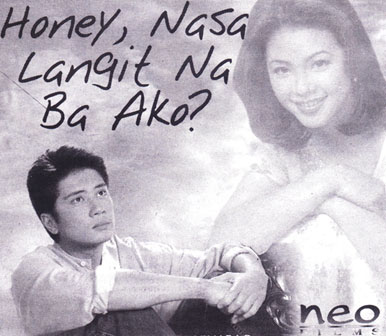 Honey, Nasa Langit Na Ba Ako?
(English:"Honey, Am I in Heaven?")
RELEASED:
September 24, 1997
STARS : Janno Gibbs, Mickey Ferriols and Regine Velasquez
ROLE: Regine, fashion designer and is the fiancee of Janno.
PLOT: Regine was about to get married to Janno when she met an accident and died. She comes back as a spirit to help Janno continue and go on with his life. Regine succeeds in doing so as Janno marries Mickey in the end.
CATEGORY: Drama & Comedy
MY COMMENT: The story is very cute and simple. Regine is very effective in making many people laugh with her slapstick comedy. They, Janno and Regine, even sang together in this film. The film is likely the "Ghost" film brushed with Filipino style.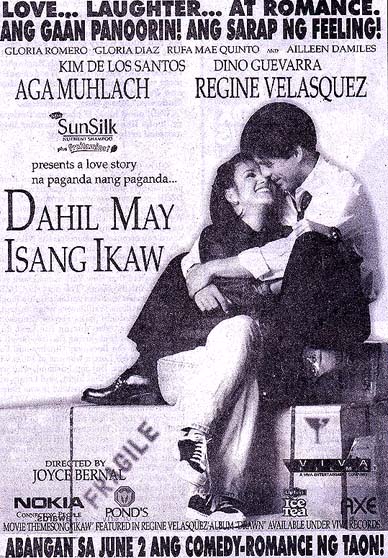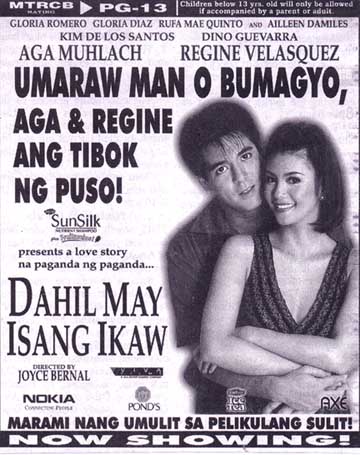 Dahil May Isang Ikaw
(English: "Because There's Someone Like You")
RELEASED:
June 1, 1999
STARS : Aga Mulach, Aileen Damiles and Regine Velasquez
ROLE: Regine as a delivery girl
PLOT: Regine and Aga met through a car accident -- fault of Aga. Aga tries to get away from his obligation, but Regine tracks down Aga and had some argument about the insurance thing. Meanwhile, Aga apologized and ask Regine for a date, Regine agrees and both became closer and falls in love, but Aga is already attached with his girlfriend in Cebu. Aga stood by Regine and ends up being together - getting married
CATEGORY: Love, Comedy Story
MY COMMENT: Romantic!! It makes you want to fall in love with Aga and Regine. Aga, handsome and Regine pretty as ever. They were so right about putting two of them together in a film. It's a fabulous match. The chemistry is so perfect and smooth. They even admitted that they became closer while doing the film, and talked for long hours. How sweet..

For comments, questions and contributions, please feel free to e-mail me:
wink@fastmail.i-next.net; blink33@hotmail.com