Regine Singing for a New Millennium
The Phil. Star Week
December 26, 1999
by Monjie Lustre
Shortly before the clock strikes the final hour of this millennium, a live TV audience across the globe (67 countries) will watch Regine sing the Philippine Millennium anthem. Surprisingly, the singer (one of the busiest performers during this season as in past Yuletides) didn't have a clue that this was destined to be a huge production.
"I didn't think it was such a big deal until I was there," she gushes the morning after. The taping of her performance atop The Manila Peninsula Hotel foundation had been announced weeeks before over the radio. Traffic had to be re-routed to allow the closure of Ayala and Makati Avenues. Even that didn'' seem out of the ordinary to Regine.
It was only when she was in the midst of 2,000 school kids, 50 jeepneys and seven cameras rolling at the same time that the magnitude struck her. The truth is that she was told only two weeks before the Millennium Day Broadcast, a BBC and WGBH consortium, allots ten minutes for every country's countdown on New Year's Eve. For the Philippines, five of those precious ten minutes will be given to Regine's song. Written in the Sand, composed by Danny Tan (music) and Agnes Sicam Caballa (lyrics), is a song of hope. No doom's day predictions here. Instead, you hear over two thousand voices representing the future of mankind. One of those distinct voices belongs to Christian Louis. Gerard Lanzar, a seriously ill 11-year old whose wish it is to sing a song to the world.
Make a Wish Foundation sought the help of GMA-7, which is co-producing the telecast, in letting Christian join the chorus. The other school children were chosen based on recommendations by the DECS.
"No, it wasn't logistically a nightmare," denies Darling de Jesus, executive producer of the GMA broadcast. "Our information campaign (done weeks before we closed off Ayala and Makati Avenues) made things easier. Although it took the production team an entire day to put up the set, they were ready for the shoot by the time Regine arrived. We were lucky to have Al Quinn as director because this is his forte.
"Mind you, this is not a simple music video. We consider this a major musical production number." And GMA couldn't have picked a better singer. Regine, a GMA talent, breezed throughout the take. The only delay was caused by the weather (rain always having the worst timing)."
"What I noticed about this production that they used so many cameras," says Regine. "They didn't just take shots of me but the kids as well. Actually, the entire experience was relatively stress-free for me. I started singing at about 7 to 7:30 p.m. By 11, we were done. That's not bad at all."
Preparation for the broadcast started two years ago when GMA signed a contract to join the extensive coverage of millennium celebrations. Darling reports that other countries have put together elaborate productions. The Philippines, of course, won't pale in comparison. The truth is that Regine and the 2,000 school children only comprise a portion of that musical number. More than a hundred performers will begin singing Written in the Sand. Regine's part will come just before the countdown. The final hour will be met with fireworks, a laser show, sky dancers and confetti.
Aside from presenting an extravaganza, GMA did not forget to showcase the culture and beauty of the Philippines. A music video has been prepared to highlight that which is uniquely Filipino.
In the meantime, Regine is milking the Millennium fever for all it's worth. She has staged a three-night performance to promote her album R2K - the revival album to (hopefully) end all revival albums. Just recently, she had a special engangement at the Shangri-La Makati. New Year's Eve will predictably be one of her busiest nights all century. After all, doesn't everyone want to party?
But should we forget what the celebration is about, Regine will sing us a reminder that the future belongs specifically to the next generation. Forget those Y2K alarmists. There is hope for mankind in the 21st century. That's the message of Written in the Sand. The lyricist found great wisdom in the essay A Tale of the Sands from Tales of Dervishes by Indries Shah (1967). That written work (which Agnes clarifies was only her jump-off point since it actually talks about reincarnation - a subject not discussed by her song) suggests that sand is a silent witness to the passing of time. "People ask me why the millennium song carries the words, 'written in the sand' when anything that is written in sand gets erased. When one says 'written in the stars' we think of destiny. But when you say written in the sand, we think of history. Because the sand has been around this planet since time immemorial," she explains. "We ask ourselves now where the new millennium will lead us to-well, the answer I guess, is written in the sand. The new millennium offers us a chance to look back and find meaning in our past and, with that, help create a better future for all."
It's written in the sand where the past has all begun, that tomorrow is here within your hands...
Regine 2000 Experience
by Lynette So
Dec. 4, 1999
Here is my "Regine 2000" concert experience last December 4, 1999. As soon as I took my gingerly steps to the Music Museum, the first person I spotted was Mang Gerry. He was sitting with someone I couldn't identify. Nevertheless, it gave me a reassurance that indeed I was awake from my afternoon sleep and I was certainly seeing a Regine concert!
The show started around 9 p.m. as I expected. I came in quite late since I knew I have reserved seats. The set was simple and classy. There's a center spotlight which highlighted a small round table where Regine's cue cards were, a couple of stem white flowers as a decor and drinking water was on top.
The crowd was packed with yuppies. It made me quite uncomfortable in the beginning, but somehow I got used to it. There was a foreigner sitting on my left and a couple sitting on my right.
The Regine 2000 concert started with a brief video of Regine's different looks. It looks millenniuish and the make up in the brief video was superb.
Regine came out singing a latin dance beat song which I forgot what the title was. She looked really pretty and really unique with her black see thru dress and the jeans shredded on top. She even made fun of her jeans when she said, "Nalalaglag and pantalon ko." One of the highlights in the concert is her hair. It's very innovative, the way it's done. It looks really different and pretty on her, of course. She sang "For The Love of You" and a rap by Gabby Eigenmann, Fallen, Sometimes by Britney Spears, On The Wings of Love, One Love - was so soothe sounding, so sweet sounding because Regine interpreted it with so much emotion and love. This is one of my favorite. She also sang "I'll Never Love Like This Again" (forgive me if the title is wrong. I'm not very particular with the title), "Waiting for Tonight" by Jennifer Lopez and many more.
I should also tell you she's a good comedienne. I like the way she tell jokes and the way she sometimes makes fun of herself. You really see her first hand as the simple and funny person. No matter what type of clothes she wear, she's still the same person deep within.
In the beginning of the show, I was so shy to take out my camera for some shoot. My camera started to itch when she finished her third song and nobody dared to take some shots as well, so I initiated myself in taking shots and other people started to flash their cameras here and there.
Gabby Eigenmann took over the show while Regine was busy changing her next costume. She came out with the blue and flowery strapless glittery short tube skirt which looked cute on her! With that dress on, she belted out songs so greatly that everyone can't help but applaud on her songbird talent. "I know I'll never love this way again so I keep holding on..."
The next costume change is a long white glittery on top dress which showed her cleavage. She even made fun of it. She made everyone see her perform at nearer sight when she passed by singing in all the isles of the seats. That's how I got the close shot, unfortunately, her eyes were not looking at my camera. She even danced with a guy and ate squid ball from somebody else's plate and drank at somebody else's mineral water. She's so fun as a concert artist!
She even fooled us when after singing a song she waved and said "Good night everybody." Good thing though, she went back and told us, "joke lang."
It really felt great to be one of her audience because she's funny, she's sexy, she's certainly one of a kind and she makes sure we all have fun on her show.
The songs she chose were not the usual songs she usually would sing on her previous concert. That's why I'm glad that she veered away from it. I love the show so much. I was supposed to buy tickets for the 11th unfortunately when I called up to inquire the lady at the music museum told me it's SOLD OUT! I was disappointed but anyhow I'm still glad that somehow I got to watch her concert. All I can say is the show is really wonderful...I may not be able to put every thing I thought wonderful in words, but it's in my memory and the feeling as well.

The Other Side of Regine
by Ricardo Lo
Philippine Star, December 7, 1999
After conversations put out the "sexy back" of Regine Velasquez two Sundays ago (November 21 issue), there was tremendous and enthusiastic response not only from local fans but also from readers (Internet) abroad, most of them "beginning" Fun fare to show the "sexy front" of Regine (the reverse of the photo published in Conversations).
So here it is, Regine Velasquez ready to welcome the new millenium with the derring-do, loosening up a bit and showing all the sundry a good singing voice is not all the asset she can boast of.
Maan Maccay Bigalbal e-mailed a letter from Saipan, Northern Marianas Islands, requesting for the complete list of the 17 songs in Regine's R2K album, her second from Viva Records and her last for this millennium, containing all revivals. "Thanks for the wonderful interview with my ever-favorite songbird," wrote Maan. Ï can't wait for her CD to be sold here in Saipan. Keep it up, Regine!"
Here's the complete list (and those who collaborated with Regine):
One Love and Dancing Queen (Cezar Aguas), On The Wings of Love and I Don't Wanna Miss A Thing (Marc Lopez), Fallin and Music and Me (Marvin Querido), Lost Without Your Love and Love Songs Medley ( Ric Mercado), For the Love of You (Mon Faustino), Holiday and If Ever You're in My Arms (Lorie Ilustre, Music of Goodbye (Raul Mitra), Hello Again (Mel Villena), The Long and Winding Road and I'll Never Love This Way Again (Homer Flores) and Marc-Arthur's Park ( Jimmy Antiporda).
As Regine said in the Conversations, her favorite among the 17 songs (chosen from the results of a survey on fans' requested songs) is On The Wings of Love even if she's not in love again but looking forward to finally finding her "millennium man" next year.
Another unidentified reader pointed out an error in the article. Ït should be rags to riches, not rügs to riches." (Thanks for the correction).
Angelo DiMaggio wrote: Ï'm looking forward to the telecast of S.O.P. (where Regine's album was launched) here in California where I live. Can you give me Regine's e-mail address?"(Paging Regine)
Another e-mail came from Philip dela Cruz of Albuquerque, USA: "Hi, Regine! Kumusta? I've been living here in the States for quite sometime now and I miss the Philippines so much. I love you, Regine. I don't know if you remember but way back then, you went to La Union for a provincial concert and I gave you a silver cross necklace. I wonder if you still have it. I'd love to see you again. I'm in the US Air Force and other Filipino servicemen here would love to watch you in concert here. When are you coming? Salamat at Mabuhay! I love you, girl!"
R2K
by Leah Salterio Gatdula
PDI, December 3, 1999
Regine Velasquez was not worried that the first night of her concert series at the Music Museum would clash with the show of Ariel Rivera, her former boyfriend whose concert was moved to a later date because of his sore eyes.
Regine explains that their simultaneous shows were never intentionally scheduled. "We were really planning a December concert in time for the release of my new album. Nagkataon lang na sumabay 'yung date sa show ni Ariel."
However, now that Ariel's show has been moved to a later date because of his sore eyes, Regine will no longer have undivided audience attention. Tonight, tomorrow night and on Dec. 11, she mounts the Music Museum stage for "Regine 2000," a showcase of the songs in her newest album, "R2K," under Viva Records.
The concert series is produced by Maxi-Media International. Joining Regine as special guests are Hotlegs, Gabby Eigenmann, and KC Montero.
On Dec. 18, she will headline a special show, "Regine on High" at the Captain's Bar of Mandarin Oriental.
"R2K" is generously loaded with 17 retro tunes, mostly requested by Regine's fans through a survey.
Regine pays tribute to artists who have made a big impact in the music industry such as George Benson ("In Your Eyes"), Michael Jackson ("Music and Me"), Whitney Houston ("For The Love of You), David Gates (Lost Without Your Love), Jeffrey Osborne (On The Wings of Love), Donna Summer ("MacArthur's Park), Neil Diamond ("Hello Again"), Teri Desario ("Fallin"), Peabo Bryson ("If Ever You're In My Arms Again"), Dionne Warwick ("I'll Never Love Like Way Again"), Abba ("Dancing Queen"), Scorpions ("Holiday"), Aerosmith ("I Don't Wanna Miss A Thing), Beatles ("The Long and Winding Road"), and The Carpenters ("One Love").
She produced the new album w/c is her second outing for Viva after "Drawn."
"I want to share the old songs to a new generation of listeners," Regine says of the selections in "R2K."
"This a concept album and I got very involved in it, from choosing the songs down to the arrangement. I know it was too much work for me, but sometimes, I really get too critical of myself. At times nga I forget na ako rin pala ang singer.
Regine admits that she initially felt the jitters of her new album. But her fears proved to be unfounded when "R2K" shot to the top of the Tower Records charts after only a day of release.
"My recording company has high expectations from me, that's why I feel the pressure," she says.
This Christmas, Regine has no special someone to share the occasion with, but she makes no big fuss about it. She is set to spend the holidays with her family.
After nearly 15 years in the business, the young diva certainly shows no signs of slowing down.
"I don't want to stop working and I am never complacent about my status," Regine says. "I constantly get excited about new things. I try to do anything and everything.
"I direct my concert, my MTVs and produce my albums so I'm not stuck in singing and my mind will not be idle. I also enjoy TV hosting. That way, I'm not burned out from singing."
A relaxing day for Regine means having a great massage, manicure, pedicure and facial treatment at home.
"I like it better when I'm at home than when I'm in the parlor and I have to dress up," she says. "Sa bahay, I don't have to look good. Even if I'm in y duster, no one will mind."
Regine 2000 at the Museum
Manila Bulletin, November 21, 1999
Before the year ends, a new sound will be heard all over the metro courtesy of Asia's only Songbird Regine Velasquez. A Y2K ready Regine sings at the Music Museum on Dec. 3, 4, and 11 in a fabulous concert series to welcome the millenium "Regine 2000."
Regine will be singing cuts from her millenium album under Viva Records called R2K with Marc Lopez as musical director. "Regine 2000" is presented by Maxi Media International in cooperation with Green Cross Alcohol, Ponds Facial Scrub and Clairol Herbal Essences.
Ticket are now available at Maxi Media, TicketWorld and at the Music Museum Ticketron, 88.3 Citylite, 89.9 Magic, Joey@92.3 Rhythms, 100.3 The Hive, 103.5 Klite and 105.1 Crossover are "Regine 2000's" official radio stations.
Making Regine Velasquez's new music video is a breeze
by Jocelyn Valle
Phil. Daily Inquirer, November 20, 1999
If record company regard music videos simply as a marketing tool in selling an album, what do artists think about these filmed versions of their songs?
"They do more than help sell the album," replies Regine Velasquez when we visit her at RS Video in Paranaque City, where she's shooting the video for "On The Wings of Love," a cut in her forthcoming album under Viva Records, "R2K." In fact, she adds, a limited edition VCD containing six music videos will complement her millennial recording.
Visual interpretations
Aside from "On The Wings of Love," the songbird has visual interpretations for "For the Love of You," (which was shown last Sunday on Channel 7's "SOP," where she's one of the hosts), "In Your Eyes," "One Love" and "Lost Without Your Love."
"Making music video is also artistic expression," Regine points out, adding that with the help of the director, the artist is able to make a narrative out of a song. "But most of the time, it's the director's vision. I only give suggestions and I make it a point to meet with him a few times before we shoot the video," she says.
The artist has a hand in choosing the director, says Regine, who is also "R2K's" producer. Her choice is Louie Ignacio , an ad megman and "SOP's" director, who's also known for his glossy music videos (Check out Jaya's "Honesty" Jaya and Janno Gibbs, and Janno Gibbs' "Ikaw Lamang," and Gary Valenciano's "Everybody Get Down").
Louie is at the helm of all of the music videos for "R2K," except for "Fallen," which Regine directs herself.
Winged Creatures
For "On The Wings of Love," Louie focused on friendly winged creatures that make flying akin to loving.
The music video begins with Regine dreaming of a man-angel dressed in blue jeans visiting her in her room. Then she becomes a butterfly, a dragonfly, an angel, a giant flower whose petals look like overlapping wings, a big green leaf that floats on air, and a fairy dancing in mid-air with the same man-angel, who becomes something like an elemental deity.
"It's a fantasy," justifies Louie. And that's why the pervading atmosphere in the studio is dreamy, surreal, and at the same time romantic fun. The production design, which is also done by Louie, is largely responsible for this. He uses fog machine, a lot of flowers, and in one scene, pink feathers.
Crown of white flowers
In the scene where Regine becomes an angel, for instance, she is made to lie on the floor with outlined wings. She wears a white slip dress and a crown of white flowers over her two layers of wavy wigs that cascade sown her almost bare shoulders.
"I-play mo ang music para may inspiration," direk Louie tells the technician, and as he yells, "Action!" the opening strains of "On the Wings of love" is heard. Regine starts emoting before the camera, her hands gracefully sway like an angel gently flapping her wings.
At the song's final refrain, Louie says, "Cut!" and right away, his assistant gives direction to the two boys and two girls who will join Regine in the next shot. Apparently satisfied with what the monitor has played back, the director moves on. He reminds the kids of their blocking and they're ready to shoot.
Pre-drawn circles
Th song is played from the top once more, and as direk Louie says, "Go, mga bagets," the youngsters, armed with a bucket of paint and a paintbrush each, enter the picture and surround Regine. They then color the pre-drawn circles on the floor, emitting vibrant green, red, yellow and blue colors on the screen that the director is closely monitoring. He beams and, as the song ends, applauds his performers. The adults then join the children in finishing the coloring chore as direk Louie paints more circles around Regine's head. Perfect for her close-up shots, he grin.
Shooting a music video, we observe, is akin to making a TV commercial, but with a few touches of cinema. There is much attention and detail, and to budgetary limitations. Roll of film is limited, for instance, so retakes are avoided as much as possible.
Beneficial
Except for the first scene, "On the Wings Of Love" is filmed chronologically. During takes, complete silence isn't a requirement, unlike shooting for a movie or taping for a TV show. This is beneficial to the artist, who can clearly hear the director's instructions and the production staff's comments. She can then make adjustments in her "acting" on the spot.
Louie has no problem with his star. When Regine emerges from her dressing room, she's completely ready for the take. She has the right costumes (a pale colored ball gown for the flower scene, a green long dress with matching yellow) false eyelashes for the leaf shot, a white cloth used a blanket wrapped around her for the bedroom setting and the fairy outfit) and gives the right performance in every one of her scenes.
Final Scene
And there's nary a complaint heard from her, even in the final scene that is similar to the ethereal scenario in "A Midsummer Night's Dream." Here, Regine and her love interest, the man-angel-deity played by model Ariel Atendido, are suspended in mid-air with harnesses (obscured by vines and leaves made of foam) attached to their bodies. While Ariel is visibly pained by the set-up, Regine doesn't show any sign of discomfort. She even jokes about how the stunt has made her legs bowed, eliciting giggles from the production staff.
The director gives Regine a hearty response before telling her that she has to go back into the harness because they have to shoot the scene again. It's 3 a.m. and the unfinished "In Your Eyes" video is next inline, but nobody's complaining. Regine's sense of humor and Louie's genial directorial style make shooting the videos a breeze.
November 9, 1999. PDI by Leah Salterio-Gatdula
Title: "Funnier the second time around"
This is a review on the concert of Ai Ai de las Alas last November 5, 1999 where Regine guested. The concert's title is "Seduct Me" held at the Folk Arts Theater (FAT).
Regine Velasquez made the audience clamor for more when she belted out her orginial ditty, "Come On In Out of the Rain" a cut from her album, "Drawn." (wink, the creator of this site comments on this one: "There is no such title of song in Regine's "Drawn" album!"). Regine politely declined the request for an encore by saying: "Hindi ko ho ito show (This isn't my show)".
Ai-Ai made an attempt to outshine Regine by wearing a glittering, spaghetti strapped gray overall when they did the prodcution number "Enough is Enough." But Regine looked every inch sophisticated in her black long gown which revealed her tattooed lower back.
November 8, 1999. PDI by Leah Salterio-Gatdula
Title: "Support for a friend"
When Regine Velasquez supports someone, she supports her all the way.
Last year, Regine was said to have agreed to guest in the Folk Arts Theater concert of Ai-Ai de las Alas but failed to do so because of a prior commitment (she did a concert series with The Company at Music Museum).
So when Ai-Ai asked Regine to guest this year, the latter gaver her full commitment. Never mind it Regine had to turn down an offer to perform in Las Vegas when Ai-Ai's show was moved a day earlier, from Nov. 6 (Saturday) to Nov. 5 (Friday).
To top it all, Regine returned the PHp50,000 talent fee which JLF Productions, the concert producer, budgeted for her.
Scuttlebutt by Shirley Matias-Pizzaro
Mla. Bulletin, Sept. 12, 1999
Regine Velasquez will be guesting in Ai Ai Delas Alas' concert at FAT on November 5, 1999. It's Ai Ai's long-time dream to have Regine as her guest. Regine has also confirmed to us prior that she had to say no to a US concert invitation to give way to Ai Ai's show. "May production number kami at saka may spot number siya. Ayaw kasi ni Floy (Quintos) na gayahin ko si Regine, nagawa ko na raw yon," Ai Ai told us. ("We have a production number & Regine has a spot number. Floy doesn't want me to mimic/make a spoof of Regine since I've done that before.")
TWO FOR THE SHOW
Regine continues to draw raves on the concert scene
By Mary Ann A. Bautista and Ricky Gallardo
PDI, Sept. 4, 1999
First-rate songbird Regine Velasquez has proven once more that she's the true concert queen. We caught her show, "The Very Best of Regine Velasquez," at the Westin Phil. Plaza Hotel last weekend, and found that it lived up to its title.
Aside from scoring high terms of musicality and vocal range, Regine should be credited for her careful choice of songs. We thoroughly enjoyed her rendition of "You Were There," and her Barbara Streisand class-act medley. She also reminded everyone of the songs that made her a star, specifically "Narito Ako," which propelled her to the top.
One thing Regine has to remember, though is that doing spiels is part of the complete packaging of the real diva. No question that she sounds and looks world-class, but the moment she starts to speak, people see a different Regine. We overheard a socialite commenting that night, "Parang taga-province pa rin siya kung magsalita. Sayang." We guess that refinement can be learned, and Regine doesn't have to become a different person to do that.
Regine has mastered the art of connecting with her audience, and specially during fast and upbeat numbers like Donna Summer's "McArthur's Park" and Cher's "Believe," we can feel that she's enjoying every minute of what she's doing.
Quite simply, she's the best - because she's got magic.

Regine still gets the jitters
By Leah Salterio Gatdula
PDI, August 30, 1999
I managed to cap a dull and dreary week by watching Regine Velasquez's concert at The Bigstage of Westin Philippine Plaza Friday night.
It has been a long time since we saw Regine perform live. The last one was at the Captain Bar of Mandarin Oriental Hotel last year.
Regine has been away from the Manila concert for quite a spell. The first half of the year saw her recording and doing concert tours out of the country. The Westin show was her first major act this year.
In fact, she admitted having jitters before the performance. "
Matagal ho akong hindi nagshow sa Manila
," Regine told a full-house crowd at the Westin Ballroom. "
Akala ko ayaw niyo sa akin, but tonight, I'm the happiest girl in the world dahil nandito kayong lahat para panoorin ako
." (I didn't hold a show in Manila for a long time. I thought you didn't like me anymore. But u're all here.")
Drumbeaters of the concert announced that Regine would sing most of her hits in the show. Hence, the lineup consisted of her own songs.
With musical director Homer Flores, Regine came up with a repertoire of "something old, something new, something borrowed, something blue." Then she sang her version of "Bluer Than Blue," a track included in her best-selling "Retro" album.
She opened the show with "You Are My Song," and followed it with an upbeat number, "Shake Your Groove Thing," with the "SOP" dancers.
One couldn't help but be emotional as Regine rendered one love song after another. She rendered a beautiful and newly arranged acoustic version of "Sana Maulit Muli," which left many concert-goers misty eyed.
Then she did a medley of her Tagalog hits -"Narito Ako," "Babalikang Muli," and "Buhay ng Buhay Ko" in her inimitable belting style.
When Regine sang "Just the Way You Look Tonight," she led a foreign guy onstage and slow-danced with him.
She did her other recordings like the bouncy "Follow The Sun," and "Ikaw."
She later brought the house down with her disco medley - "McArthur's Park," "Dancing Queen," "Can't Take My Eyes Off You," "I Love You More Today Than Yesterday," and "Can't Help."
And what is a Regine concert without the songs of her favorite singer, Barbara Streisand? Regine gave her audience a medley of Streisand hits -"People," "Evergreen," "All I Ask Of You" and "Memory."
For the "old tunes," Regine dished out a medley of "Sunny Side of the Street" and "On the Street Where You Live" - songs learned from her mom, she said.
And for the "new hits," Regine did Jennifer Lopez's "If You Had My Love" and Cher's "Believe."
Still from the "Retro" album, Regine sang "You Were There," one of her favorite songs.
In the audience that night were Kris Aquino and Carmina Villaroel who came together, Viva Films' big boss Vic del Rosario, MMDA chair Jojo Binay, teen star Paula Peralejo and film director Joyce Bernal, who worked with Regine and Aga Mulach in the recent blockbuster, "Dahil May Isang Ikaw."
The crowd couldn't have enough of Regine that they clamored for more after her final number.
Regine graciously did an encore of "What Kind of Fool," which earned her a standing ovation.
She didn't get to sing all her hits like "You Made Me Stronger" and her debut single, "Urong-Sulong." A tow-hour performance cannot definitely squeeze in Regine's multiple hit list.
The crowd did not stop Regine from being "intimate." Every now and then, she would go down from the stage to reach out to her audience. She gamely posed for those with instamatic cameras even while singing and also talked to some guests.
Her screaming fans didn't mind the semiformal atmosphere. They still shrieked when Regine belted those high notes which have become her trademark.

Simply Regine Velasquez
by Crispina Martinez-Belen and Shirley Matias Pizzaro
Manila Bulletin, Entertainment Section, August 22, 1999
Did you know that Regine Velasquez finds immense comfort at stargazing? A hobby she has adopted even as a young girl. Regine says that her most favorite time of the day is during dusk, 5:47 pm, she jokingly says "because that's when light suddenly changes the dark. I just love watching day turn into night. And I do that very often, I climb the roof of our house in Bulacan, settle, wait for the great transition, and then wait again for the first star to appear."
Regine says she only stops when the heavens go alight with stars, more stars. Then, she'll happily go down to have her supper.
At first blush, that could be an anecdote to describe a simple barrio lass, not a songbird who has charted incredible achievements in the field of music. But both statements are true. That's how Regine has managed to be even after 14 years of sweet success in her chosen profession.
From the looks of it, she remains to be unfaffected by the pomp and pageantry attached to the status that she rightfully occupies now. Her joys are still simple, her dreams still reachable and her feet still firmly planted on the ground.
Alright she dreams bigger dreams now but she's also fairly realistic. While she's been trying to hit the international market, Regine also know that she has a long way to go, still. But then again, it doesn't do any harm at all, when a certain David Massey, the right-hand man of Tommy Motola had to come all the way to L.A. California to watch Regine perform during her rehearsals of her show with Kuh Ledesma just last month.
Regine says Massey had positive reactions after seeing her perform, but since she doesn't have a true blue manager to handle this side of her career, she still figuring out what her next steps would be. But Regine says she plans to go back, in the meantime, to her old turf -Asia, the region where she had made quite an impact with when she did a duet with superstar Jacky Cheung a few years back, "Nakafirst base na nga ako doon kaya gusto ko ulit i-try mag-release ng album ko doon. And Viva Records is very, very, supportive of this plan. In fact, they already have talked to a company that will hanlde the distribution of my albums there. And I am very, very thankful to Boss Vic for all his help," she says.
We got together with Regine again (after a long, long time) for one-on one interview last Friday at Dulcinea in Quezon City. When she arrived, casually garbed in white shirt and black pedal pushers, hair tied in a pony tail, carefully madeup (because there was supposed to have a TV interview but unfortumately didn't push through), instantly apologizing for being late, we knew that we both have our right foot forward. Following is an easygoing banter that will tell us more about what the songbird is busy with right now and what's she's been up to lately.
Question: When did u come back from the States? How long have u been away?
Answer: We arrived July12, I had three shows with Kuh Ledesma, the "Power of Two" part 2 in New York, San Francisco, and Los Angeles, California. Luckily, all shows were successful, since the last hsows we had there were about two years ago pa. I have been away for a month and a half, the other half I spent vacationing, nagpahinga ako, konting shopping.
Q: You were supposed to meet Tommy Motola there for the possibility of an international album, what happened?

A: Hindi natuloy (it didn't push through) but I was able to meet David Massey from Sony International, they say he is the right-hand man of Tommy Motola. He's a very busy man but I met him. He saw me perform during the rehearsals and my dad and Patty said he liked what he saw. It's just that I don't know how to go about it. I didn't want to call him after, I find it inappropriate. Hopefully, that's why I'm asking for Viva's help, plus my lawyer in the States so we can explore any possibility.
Q: I thought you were being represented by Mark Feist for your international dealings?
A: My contract with Mark has already expired so I am now being repreented by a lawyer who is based in the States. I was told by someone to get a producer first, kasi tie-up daw yon with recording company there. So right now, tinutulungan ako ng Viva at saka nong lawyer ko, pero as of now, talagang wala pa.
Q: Have you decided already on now you're going to call the company that you're setting up with your dad?
A: Not yet. Siguro mga next year pa. I really plan to set up a company because I wanted to help some people who are close to me who know production a lot. Hindi ko naman sila talaga matulungan ng husto kung halimbawa sa booking lang, maliit lang ang naibibigay ko unlike kapag involved sila sa production, mas nabibigay ko lang sila talaga ng chance na kumita kapag ganon. Gusto ko lang talaga silang tulungan. Much as I would like to hire them as my booking officers, I can't kasi mahirap, I can't afford it kasi ako lang ang artist. At saka kailangan din ang company because of the tax. Lhat nagre-reflect sa akin eh hindi naman talaga sa akin napupunta ang lahat. At saka iyon di naman talaga ang gusto namin, makapagdevelop ng sarili naming production, although I admit that I am not yet very well-versed in it. But I am learning. Siguro hopefully next year, we could set it up. But then again kahit may company ako. I am not going to force my production to any producer who would get me. If they will get me only as a talent, I will work for them as a talent. Hindi magiging part of the contract ko yan, to get my production team evertime they would get me. My company will hopefully get other shows, like for Cacai, she's coming home soon. Most of them came from Ronnie, so they are now doing free lance work.
Q: How about talent management a part of your agenda?
A: Right now kasi maraming lumalapit sa tatay ko regarding management. So if ever we'll set up a company, I will not handle that talent management aspect. Tatay ko nalang yan. Even my own career, he handles it, too. I basically decide on my carer but it doesn't mean that I can do everything totally. I still have to consult my father, sometimes I still talk to Ronnie, if I have concerns, still. Alam naman nila nangangapa pa rin ako. I'm still much of an artist, I don't like hanling the business side of my career.
Q: Can you talk about your upcoming show on Aug. 2 at the ballroom of Westin Philippine Plaza?
A: For the first time, I'm going to have a show featuring all songs that I have recorded. This will be some form of a teaser for a major concert which will happen next year to celebrate my 15th year in the business. This is really the idea of Maxi-media, kasi napansin nila na I've been doing concerts all th time but none that features me singing only my osngs. Hindi ko naman narealize yon, before naisuggest na rin ni Ronnie ang ganoon but hindi ako masyadong sold sa idea na yon. Ang feeling ko kasi baka hindi mag-enjoy ang mga tao. Hindi kasi ako confident and I am not aware na ganoon na rin karami ang songs ko na naging hit na rin namin. But this concert, marami pa kaming kantang nakabangko. We are planning something bigger than this, an all-hit concert probably at the Araneta Coliseum kasi hindi pa ako nakakapagconcert doon. Probably in April, my birthday also. Remember during my 10th sa UP naman. For this 15th year concert, buhos na talaga yon. For this show kasi, may 15 percent pa na hindi ko kanta, teaser talaga ito. We chose songs from all the different albums. I will still sing songs that they expect me to sing, but hose that are so much identified with me, ibubuhos namin sa susunod na lang. Kasi dapat naman we will present something new for them on my 15th year.
Q: Who directs the Philippine Plaza show?
A: Si Rico Mortel of Maximedia, but the musical director is Homer Flores.
Q: Do you still suffer from stage fright even after 15 years in the business?
A: Oo naman. Alam mo ganito ako. Kapag may concert excited ako kasi may show ako.. Pero kapag three days na lang before the day, sinasabunutan ko na ang sarili ko sa tensyon and I ask myself, why do I do this myself. Dapat gumigimik na lang sa tabi tabi, hindi lang major concert. Pero bakit ko ba ginagawa ito sa sarili ko? Lalo na kapag mahirap ang mga songs, tapos kailangan mag-rehearse ka, palagi hirap na hirap ako. Mataas madalas kasi kapag rehearsal , wala ka sa mood, iba kasi kapag performance na talaga ma adrenaline ka na non diba?
Q: How do you diffuse the tension within you?
A: Hindi ko alam usually nagtatatalon ako (jumping) bago umakyat sa stage. Dati what I do, kuwento ako ng kuwento kaya lang nauubos ang boses ko, by the time kakanta na ako, wala na akong boses. Kasi ang speaking voice mas madaling makamalat kesa pag kumakanta ka na. Masyadong kasing throaty ang speaking voice ko ko whereas pag kanta alam mo kung saan huhugutin di ba? Usually first three songs ko, kabado pa rin ako. Pero on the fourth song, okay na. Pero ngayon may bago akong sakit, and it happened to me twice na, napansin ko lang noong "Retro" concert ko, firt three songs, malat ako, wala akong boses, kasi siguro sa tension. Bumalik noong sixth song ko na. First time it happened sa Mandarin. First song wala akong boses. Pero tension lang kasi kalagitnaan ng show balik na ang boses ko kasi relaxed na rin ako. At saka ako, kapag palapit ang show, naglulugas din ang buhok ko. Ganon ak matense. Meron din naman akong security blanket, like iyong mga lyric sheet s ko, itinatago ko sa ilalim ng unan ko. Di ba katulad noong high school sabi ng matatanda, kapag gusto mong magmemorize for an exam, ilagay mo ang book sa ulo mo. Ginagawa ko parin yon, and I think it works for me. Di ba ganda?
Q: What for u is the hardest part of a live performance?
A: The hardest for me is to get the audience attention. Ang hirap hirap non. Sumisigaw ako talaga lalo na when I was just starting because the audience were never used to see me singing mellow songs, so I scream a lot to get their attention. And when I say my spiels. naguusap usap din sila. So ang ginawa namin, nagmellow ako sa repertoire ko. But now I found a way to catch their attention. I talk to them like I'm not onstage. I don't have any script anymore because it doesn't work for me. Mas nakikinig ang audience at nagiinteract with me, mas may attachment ang audience that way diba? Dati kasi ang uso, may script pero hindi bagay sa akin lalo na kapag may mga English na spiels. Kaya ginawa namin sa akin, Taglish ang spiels ko, mas effective.
Minsan nga komedyante na ang dating ko pero it was not conscious effort on my own part. It just happens that way kasi kinakausap ko lang ang isang audience. Kapag big venue naman, I have discovered na dapat, opening number pa lang, dapt kuha mo na ang attention ng tao. Kasi, iyong iba, inaayos pa ang upuan, may mga late dumating. And usually, nakikinig lang sila on the third song na. As much as possible I do good opening numbers na, otherwise, it will just pass them.
Q: What do you think is the hardest part of your career?
A: To please everybody. Although, I know that it is not bad to want to please everybody , it somehow works on a positive light because that way, you always want to give your best shot. But then again, people will always find something to say about you. I think minsan nga, they just look for a hole to criticize me. Like when I was just starting, they say that I scream all the time, that I don't speak well, that I'm like this. As an artist, I also welcome those criticisms because that is also a way to improve myself. You always have to have that big space to learn new things. I'm basically a stubborn person, Taurus ako, but when it comes to my craft, my career, ayokong maging stubborn, I try to flexible, like a sponge that will absorb lessons from different people. Pero ngayon, napapansin ko wala nang ganong material. It's either mataba ako, ayaw nila ang make-up ko, ang gown ko, happy naman ako don. Ayaw ko rin namang masabi ng tao na ang feeling ko, sobrang galing ko na na hindi na ako puwedeng i-criticize.
Q: Is there something that you would still want to do?
A: Maging bold star (laughs) Hindi believable, pangit, hindi magandang pangitain, masagwa. Wala na akong maisip. Halos lahat nagawa ko na, mga concepts na lang sa concets. Sa singing okay na ko. Right now, I want to achieve something in the international scene. Kung meron pa sigurong dapat gawin at matutuhan, sa movies yon.
Q: What if you will be made to choose between sacrificing your values in exchange for fame in the international scene, say you become a mistress of Tommy Motola, how would you react?
A: Huwag na lang. I won't ever compromise my values. Kung papaipiliin ako, between my career here now and that , dito na lang ako. Siguro for love I will do it anytime of the day, pero kung para lang sa career ko. Huwag na lang.
Q: What's next after your movie with Aga? I heard Aga would like to do a movie with u again?
A: Wala pa silang sinasabi sa akin. But that's because the movie that we did together was really cute. And we've been told that he's never been that involved in his movies before. Sobrang excited siya sa movie na yon. I would love to, I will be honored if he really wants to team-up again.
Q: And there were so many kissing scenes in that movie?
A: Ang natatatandaan ko nga tatlong kissing scenes lang, pero napanood ko, oh my gosh ang dami nga. Binilang niya more than 20 plus nga. Nakakatawa noong premiere night, noong pinapaanood namin, ang Mommy ko nasa harap. Noong mga early part ng movie, okay lang siya, kahit na kissing scene, pero noong tumagal, medyo passionate na ang mga kiss, hindi na siya tumatawa. Tapos kinakausap niya si Aga sa screen, tapos humaharap sa amin at sinita si Aga.
Q: Did you see him in the States?
A: No. What happened was he called up in LA and he wanted to meet up with us to have dinner. We would have wanted but I got busy, and I didn't know where to get in touch with him so we ended up not seeing each other at all. We haven't seen each other until now, hindi ko nga siya na-greet noong b-day niya. Anyway, my follow-up movie will pair me with Cesar Montano and Boss Vic told me that Cesar has already said yes. That movie was supposed to start shooting in October but I have to start with my next album with Viva kaya net year nalang. Probably January or February.
The next album, I'm sort of producing it but it will be a product of a collaboration between me and the new A&R in Viva Records, Rene Salta who's very magaan katrabaho/ Si Mr. C (Ryan Cayabyab) ang magpo-produce. Puro retro ulit ito, kasi uso di ba. Kasi if you remember, iyong "Retro" album ko was the first of its kind to be released during that time bago naglabasan ang iba ng ganong formula. Now, naman medyo pawala na ang uso, I'll be coming up with the last one. Parang to close the season, sort of.
Q: What's the status of your contract with Viva?
A: I've just signed up a new contract with Viva recently, this time it's a five year contract. The first contract was shorter. This is because I'm very happy with them. That is to dispel rumors that I'm leaving Viva dahil daw hindi ako masaya sa dami dami nami don.
Q: What is about your job which makes you feel that all the hard work, the difficulties, the controversies and intrigues, are worth it?
A: When I perform before and I see my audience enjoying themselves. Kahit anong intriga ang dumating sa akin, kapag nakita ko ang audience na nag-enjoy , sumaya at nag-connect sa akin, tumawa sila sa joke ko, sumayaw sa awitin ko, bawi. Nakakalimutan ko lahat kung anumang intrigues meron.

Scuttlebutt
by Shirley Matias Pizzaro
Mla. Bulletin, August 15, 1999
So, plans to stage the concert of the decade, "The Divas" featuring the country's legitimate divas in the persons of Kuh Ledesma, (who incidentally is the newest "diva" to join the Viva Records stable of talents), Zsa Zsa Padilla, Regine Velasquez, Pops Fernandez and Jaya won't be pushing through after all. A reliable source told us that even before anybody could really buckle down to work and organize the said concert, there were already squabbles in the issue of billing.
But then again, this kind of problem is already expected because there is absolutely nothing simple about gathering five singing superstars in one dream concert.
The mole said that while all of them (talents and their managers) were amenable to Kuh Ledesma getting the highest billing (for reasons of seniority), Pops' camp was said to be rooting for the second rank or "and" part. The mole said this was where the conflict began since Zsa Zsa's camp had already suggested that seniority be followed in the billing scheme, which means, Zsa Zsa had to take the second lead.
In Regine's camp, the mole continued, the feeling was for her to rightfully occupy the "and" position. But then again, if the seniority ruling should be followed, the mole said that Regine was willing to rank third.
And while all of them were reeling within the midst of the billing issue, the mole said that Jaya was not at all making demands nor fussing about her billing. The real diva, Jaya, was quoted saying, "Kahit saan ako ilagay. Just to be part of this concert is more than enough honor for me."
It's only from Jaya where one can find an uncommon and rare humility from someone who's achievements are unquestionable.
Regine misses her hosting chores at 'SOP'
Saturday Special
PDI, Sat. July 17, 1999
Regine Velasquez is currently in the United States performing with Kuh Ledesma, a repeat of their highly successful "The Power of Two" shows last year. Quietly, Regine and her father, Mang Gerry are meeting with top executives of two foreign labels who invited the singer for exploratory talks. Hopefully, she'll be able to ink any one of these contracts that have fallen on her lap and pursue her dream of going international.
Regine has, in some way, penetrated the foreign market, with successful duets in Taiwan, one of which she did with Jacky Cheung. That one hit the top charts for several weeks. She also has an MTV with David Hasselhoff, shot in Los Angeles last year. Regine is again featured as a cheongsam wearing singer in Hasselhoff's latest music video.
We talked to Regine recently and she says she misses the Philippines and the entertainment circuit. Specifically, she mentioned her hosting job at "SOP," where she feels that her public relations and speaking skills are being honed. "Alam mo naman ako, medyo pumapalpak pa rin pagdating sa spiels, kaya itong 'SOP,' magandang training yan." ("You know I still have my unsuccessful spiels, so 'SOP' is a good training")
She told us that her sister Cacai, who has since gone back to Stuttgart, Germany, has serious plans to come home for good. "She'll come ahead with their baby, then Raul Roxas will follow, who will be done with his stint in 'Ms. Saigon' soon.

Regine Velasquez plays the waiting game
by Mary Ann A. Bautista and Ricky T. Gallardo
PDI, June 5, 1999
Observers point out that Regine Velasquez has developed a very daring fashion style everytime she appears as a host on "SOP" on GMA-7. How does she feel when she hears unsavory comments about her outfits?
Regine shrugs, "They are entitled to their opinion. I change the way I look because I like to experiment. I think I'm a very complex person. I hate it when people assume that they already know me because there are different sides to my personality. I'm a bundle of contradictions!
"Sometimes, I am surprised at myself. I'm cocky. I don't like it when people I don't know will suddenly become close to me. I want to have space. When we were living in Bulacan, my sister Cacai and I would talk until 4 a.m. But now that she's married, of course her priorities have changed.
Regine feels that her biggest investment is sending her brother, Jojo and her sisters to school. And she also wishes to go back to school someday.
"I have fun planning - where to study, and what course. But my busy schedule prevents me from doing it. I don't regret being a singer, but I do regret the fact that I had to stop schooling. But I had to sacrifice to be successful. Sometimes it's a shame I didn't finish my studies. I'll probably take up Fine Arts," Regine says.
Though she has directed herself in a concert, directing Gary Valenciano and Martin Nievera is another dream. Conquering the international scene and finding the right husband are others.
"I'm still young. It's the 90s women are getting married in their 30s because they're more career oriented, which is good. I've talked to married women and they tell me that I'm so lucky because I have a career. I want to marry someone who will love me for what I am and I'll wait until he finds me," Regine shares
Regine's dad approves of Aga
by Leah Salterio Gatdula
PDI, May 31, 1999
It has been nearly five years now since Regine Velasquez fell in love. No matter how short-lived it was, it definitely became unforgettable episode in her adult life, as Regine learned how it was to love and be loved by someone.
Up to this day, however, another man has yet to conquer the heart of Regine. It may be unfair to say that the singer has become jaded about relationships, but Regine probably wants to be more careful this time around before plunging into another serious involvement.
In her recent movie for Viva Films, "Dahil May Isang Ikaw," Regine probably felt her heart flutter anew when she was given a chance to be paired with Aga Mulach for the first time.
Aga has been vocal about his crush on Regine and not a few on the set of the movie saw how the two stars have become even more closer now.
If ever Aga courts Regine, the singer's dad, Mang Gerry, who's known to be a formidable presence everywhere Regine goes to, says he will not be against the romance.
"Aga is okay," Mang Gerry told us, "He's kind. I'm not the one choosing or deciding when it comes to those things. Wherever Regine is happy, it's okay with me."
Aga, however, was careful not to make his special feelings for his costar get in the way of their working relationship.
Will he still pursue Regine even after the movie is shown?
"It's very hard to pursue Regine at this point because she's so busy and I know she has a dream to conquer," Aga said. "She is bent on making it in the international music scene. I only wish for her success."
"Dahil May Isang Ikaw" will premiere at 7:30 p.m. at SM Megamall Cinema 9. Of course, Regine and Aga will be there, as well as the other love-team in the movie - Dino Guevarra and Kim de los Santos.
Aga, in fact, is said to be cooking up a gimmick for the premiere, unknown to even to his costars.
Regine gets to record the theme song, "Ikaw," which, incidentally, was also the movie of her erstwhile.
All Because of Aga
By Crispina Martinez-Belen & Shirley Matias-Pizarro
Mla. Bulletin, May 30, 1999

"Dahil May Isang Ikaw" teams up Aga for the first time with Asia's songbird, Regine Velasquez. He's never been involved in this movie before as some people observe. From the tips he gives to his costars on how to attack a certain scene or to suggest beautiful scenes to director, Joyce Bernal, to the dubbing, to the musical scoring and even to the conduct of the premiere night. Aga is just brimming with excitement.
"I call Regine anytime in her house, one time nga, 5:30 in the morning pa nga. Kasi galing ako sa dubbing and I really couldn't help but fall in love with the movie. After that I called her because I wanted to share my excitement, kaya lang tulog pa siya. Si Dad (that's how he calls Mang Gerry, ed.) ang kausap ko and I just asked him to tell Regine that the movie is so beautiful."
We, ourselves, had reservations about the team-up when we first heard of the news, but honestly, when we saw the trailer during the press conference, we felt that the chemistry exuded onscreen could easily translate to a box-office success.
The movie is a light-romance-drama and it is a love story that tells of two people coming from such different worlds falling in love and breaking rules. Aga admits to being successful in "falling in love" with Regine while doing the movie. But to say that I'm in love with Regine right now is not really accurately putting it. I like her very much, and I've always had this big crush on her eversince. We're friends now, and we're both willing to keep it that way, lest we destroy something that is quite beautiful. Hayaan muna nating ganyan. In the meantime, we will both move on with out respective lives, pursue our respective careers. If something will come out of it someday, soon, then so be it."
Scuttlebutt
By Shirley Matias Pizarro
Mla. Bulletin, May 23, 1999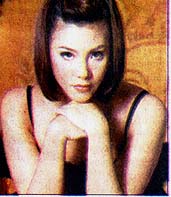 Aga Mulach says he intends to see much more of Regine Velasquez in the coming days, even when the promotions for their movie together, "Dahil May Isang Ikaw" is over and done with. Apparently, our lover boys has let his heart loose again for his leading lady but the better part is that he will probably be in for a different treat because definitely, Regine, our Bulacan lass is totally different from the other showbiz girls Aga has dated in the past. For one, Regine says she doesn't go out on dates, which means, Aga has to go conventional and traditional going through that getting to know period in courtship. It would be interesting to see Aga Mulach making "akyat ng ligaw" ("courting") to Regine in either in Bulacan home or Teacher's Village Townhouse.
Both are unattached. Aga confirmed that he and Dayanarra have broken up which goes to prove that he is free to get "entangled" again with another woman. Regine, for her part, is also "single" and that the rumor between Regine and Mark Feist is not true, according to Mang Gerry.
If Aga would run consistent to his avowal of "love" for Regine during the press conference, we don't see any reason why Regine should not accept him. After all, they have admittedly grown closer to each other during the times that they spent together shooting the movie. "We had a very long talk, a good talk when we were in Batangas. We were under the sun for such a long time. I hope that every day is pretty much that way," Aga reminisced, even adding that his new song for Regine is "Didn't Know I Was Looking For Love 'til I Found You."
All things considered, Aga and Regine are somehow perfect for each other. And there are no impediments, whatsoever, for them to be together since Mang Gerry approves of Aga for Regine, and Tita Ethel (Ramos), Aga's manager, seems to have nothing against Regine. In fact, she even describes her as a nice and good person having handled her in the past in several projects.
We just hope he wouldn't make her cry. And we hope, too, that Aga would find in her what he has continually failing to find in the other girls that he went out with.
Could it be possible that the outstanding chemistry shown by them on the big screen could spill over in real life? They sure look good together when we watched the trailer of the movie and we can't help but feel "kilig" ("excited") for them. Let's just see when all these promo blitz are over.
*********************
When we talked to Mang Gerry, Regine's father that same day, he confirmed to us that yes, they have plans of putting up a company that would deal with talent development, management and even production sometime within the year. "As of now, we are still preparing for a lot of paper works needed to set-up the firm," he says,
"this part is the most difficult, that's why it's taking so long." He said Regine will be part of the managerial board, along with him and his wife. Needless to say, the premiere artists, of course, of the company whose name is still being decided upon, will be Regine and sister Cacai Velasquez.
For a long time now, Mang Gerry said, they only have booking arrangements with Ronnie Henares. "At this point, Regine feels she is already mature and knowledgeable enough to handle her own affairs and decide on her career. And we also want to correct the impression that it is hard to deal with Regine. We are aware that the contract of Ronnie asks so much indeed. And the repercussion is bad for Regine, because the people think it is Regine who asks for it But in truth, it's not. But don't get me wrong, we know also of the fact that what Ronnie is asking are the best interest of Regine. But the setting up of the company is just an inevitable step to move forward," Mang Gerry explains.
Mang Gerry said they will be leaving for the US again early next month and they will be staying there for a good two months. Regine will be holding shows in New York, San Francisco and Los Angeles. But Mang Gerry said the more important business that they have to deal with in the US has a lot to do with Regine's international recording. "We are set to meet with Tommy Motola of Sony Music and Freddie Demann, the manager of Madonna," Mang Gerry announces.
Well good luck. If plans don't miscarry, looks like we're in for another international artist in the making.
***
PDI, May 1999
Last May 22, 1999, Metropop Song Festival Finals go onstage at the AFP Theater with Regine Velasquez doing a medley of 12 songs that made it to the finals.
Regine's job was one of the toughest one since she has to study all 12 songs and sing the snippets of it in the opening show.
Two For The Show
Aga Mulach controls his romantic feelings for Regine
by Mary Ann A. Bautista
and Ricky T. Gallardo
PDI, May 22, 1999

Aga Mulach blushes when he admits that doing the passionate kissing scene in his new movie with Regine Velasquez made him nervous. Why did he feel that way when he kissed his other leading ladies before?
Aga smiles, "Regine is my crush, my idol because she sings very well. So it was natural that I would get nervous and would shy away around her. But when we shot that scene, it was a nice day. We even had background music while we were shooting it."
Regine shares, "It's my first time to do a passionate scene on-screen, but I agreed because I knew that Aga wouldn't take advantage. He's a real gentleman! When we were about to do that scene, I was so tense. Doing a kissing scene can be uncomfortable but I wasn't nervous.
"Aga's hands were cold. He even asked me, 'How am I going to kiss you?' And I said, 'No tongue, please.' When you're doing the movie, a lot of people are on the set and they watch, so even if I wanted to enjoy it, I couldn't ! I guess, it's better to kiss in private, when you're in love."
Aga discloses that he fell for Regine but he had to control his feelings because he wanted to get to know her first and follow their friendship to develop naturally. What are Regine's endearing qualities?
"She's a funny girl! She's nice and patient. I know I'm always behind when I get to the set but she's always smiling and nice even if I make her wait," Aga relates.
"It's okey. He buys Starbucks coffee when he arrives," Regine jests.
"When we were in Dumaguete, we were exposed under the sun and we burned because we had a very long talk, but she never complained. She brings us food on the set. I have discovered new things about her and I know that she still wants to pursue a lot of her dreams. I want her to fulfill all her dreams first. After that..." - Aga sighs.
Regine admits that she initially admired Aga's good looks but she didn't fall for him because she doesn't believe in love at first sight. So, what does she like about him?
"Aga is a lovable guy. While we were shooting 'Dahil May Isang Ikaw,' he would sing to me these lines from a song: 'Close to me, you're like my father; close to me, you're like my mother,' but he wouldn't sing the chorus this 'All my life, I waited for someone like you/ And I thank God, that I finally found you.'
"Usually, the singers I've known would be so shy to sing in front of me and they're singers. But Aga he doesn't shy away from me! If he hears James Ingram song, he would say, 'Can you hear that? Plakadong, plakado ko yan!' I'm fun of him," Regine giggles, then turns pensive.
"Guys are intimidated by me, I'm not really magnetic/attracting type. And it takes so long for me to really warm up to a person. Some people think that they really know me but they don't! I'm a very complex person. Sometimes, I contradict myself.
"I think a guy should really get to know me and I should get to know him. That is important to me the friendship. Aga is a great-looking guy, but it goes beyond that. I prefer that love will develop, because I'm able to accept him. It's not just attraction."
We had diverse views about Regine and Aga's attraction to each other, so we decided to discuss it over coffee.
Mary Ann: Aga used to fall in love with his leading ladies before, so I can't understand why he had to control himself. Why didn't he court Regine?
Ricky: Maybe Aga's really fond of mestizas.
Mary Ann: Maybe. But I believe that Aga is more mature now and his attraction goes beyond looks. He said he want somebody who understands and supports him. "Someone who'll take care of him. Why do guys want girls to be at their beck and call? Do you always want us to be your slaves? It's the new millenium, you should treat us equals.
Ricky: We don't' want our girlfriends t be our slaves. We just want them to show us that they care, and since we show our love and affection by doing things for them, we assume that they also want to do things for us. I know that Aga is sincere and generous person so I guess he just wants his efforts to be reciprocated.
Mary Ann: And since he wasn't sure if Regine would reciprocate his romantic feelings, he decided to control them and just be a friend?
Ricky: (nods) After all his experiences, Aga has learned not to play with his emotions, especially his own.
Mary Ann: But if he's afraid to express his emotions and is too cautious, then he's not really in love - because, in a way, he's doubting his feelings.
Ricky: Maybe he doesn't feel anything! Maybe it didn't really hit him this time, like the many times before.
Mary Ann: So which is stronger? Love that develops through time or love that is instant?
Ricky: It really depends. A lot of people has been saying that love lasts longer if it's developed because it grows. But if it's instant, the attraction is strong and it can still grow if it is nurtured. It's stronger if it's sustained. It really depends on the people involved.
Mary Ann: Yeah if one partner is complacent and the other partner just hangs on because he or she want to save the relationship, then they should call it quits. Why waste your time and energy in fixing something that's already broken and can't be put together again.
Ricky: Then don't. It won't work. Love is symbiotic because there's give and take. If it's not there, it won't even take off!

Regine and Aga
by Nestor U. Torre
PDI, May 13, 1999
Moviegoers are curious about Aga Mulach's latest film, "Dahil May Isang Ikaw," because his leading lady in the movie is Regine Velasquez. Regine has done other movies before, so what's the big deal about this one? Well, the Regine-Aga combination is deemed "potentially delicate" by some, specially in the "visuals department."
Huh? Hacking our way through the hedge of decorative language, we can sense that some people are worried the young-looking and extremely photogenic Aga may make Regine look, not like his romantic interest, but more like his bestfriend, older sister or (gulp) mother.
That's going too far, right? But the concern is still there. How to salve it?
In her last movie with Christopher de Leon, Regine succeeded because Christopher was older and Regine's character was made "kooky." In "Dahil May Isang Ikaw," she again plays an unconventional character, a spitfire who's ready to fight for what she believes in, so that should take care of her character's interest value.
But what about her love scenes with Aga? How will director Joyce Bernal shoot them so that they will look like a truly romantic and "visually compatible" couple. There's that decorative language again, but you know what I mean...
By the way, Regine isn't' alone in relation to this "problem." Other leading ladies have had to work harder at their "packaging" to "survive" their romantic scenes with Aga.
Perhaps the way out here would be to regard the Regine-Aga movie as tan unconventional love story, where the romantic aura isn't half as important as the movie's fun and sass. It worked for Robert Redford and Barbara Streisand in "The Way We Were," and it could work here, too.

Regine holds fans' day
PDI, April 21, 1999
Regine Velasquez will turn a year older tomorrow, April 22. Today, Regine will throw a big party for her fans, 3 p.m. at Makati Coliseum.
To be hosted by Regine's good friends -- Arnell Tamayo, Philip Lazaro, Martin Mijares and Rey Kilay of The Library Sing-Along Bar -- the show will be her first grand fans day in her entire career. It will be supported by Viva Records, Sangguniang Kabataan ng Makati and Councilor Jun Jun Binay. Admission is free.
Among the events lined up are "Bring Me" contest where Regine will ask fans to bring some of the oldest photos, magazine covers, albums and other memorabilias.
Fans can also join the "Regine Sing-a-Like" contest, where cash prizes will be given away.
Regine will also treat her fans to a miniconcert to mark the special day.
Regine Velasquez
thinks of herself,
for a change
By Edmund L. Sicam
PDI, April 17, 1999
FOR the first time in her colorful 14-year career, the Songbird, Regine Velasquez is holding a Fans' Day on April 21 at the Makati Coliseum starting at 3 p.m. (For more details, call 810-4471 or page 125-1156159). The date is significant because Regine turns 29 the day after. The singer usually does not like to celebrate her birthday in a big way, but she's making an exception this time.
Significant shift
This year also marks a significant shift in Regine as a singer. After being managed by Ronnnie Henares' Primeline for the past 12 years, she did not renew her management contract last February.
Regine's move turned off some quarters which branded her as "disloyal," "swellheaded" and "an ingrate" for turning her back on the person who made her what she is today. Others have joined the chorus and observed that her career suffered a downturn when she left Primeline.
Regine sounded calm when we talked to her about the negative feedback. "In the first place, how can I be disloyal to Ronnie when I was under his management for 12 long years?" she pointed out. True enough, some performers haven't lasted that long with one manager.
"Besides," she adds, "I did not transfer to another manager. I have become my own manager."
That's a major decision even for an established star like Regine. But she has her reasons. "I want to handle myself and make my own decisions. When I was younger, my father and Ronnie decided on my behalf and I'm thankful for that. Now, it's right for me to handle my affairs. That's not being ungrateful. I'm already 29, I have to think of myself."
Her last statement is very revealing. Expounding on her need to focus on herself, she says, "I got into singing for financial reasons. We were very poor and I wanted to earn enough to send my brothers and sisters to school. With God's help, I was blessed with many opportunities to reach my goal. Now na tapos na sila sa college, I think it's my turn."
Breadwinner
Who can blame a breadwinner like Regine who's had to work real hard to make life more comfortable for her family? Isn't it time she enjoyed the fruits of her labor and be her own person?
As for being "swellheaded," she says, "My family should be the one to judge kung talagang lumaki na nga ang ulo ko. So far, hindi pa naman sila nagko-complain."
When it comes to her career being on a downturn, she's fatalistic about it. "If that is really true, I can't do anything about it. If my audience doesn't want me anymore, then I will bow to its wishes, I will just fade away from the scene."
Oddly enough, she only started managing herself last February and some people are already talking about her "sliding" career. But it's evident that she continues to be busy with concerts here and abroad and with her recording career. She will also be coming out in a Viva movie with Aga Muhlach. What downturn?
Despite her long years as an entertainer, the negative write-ups still affect her. "I'm only human," she sighs. Then she composes herself and reasons out, "Whatever you do naman, people will always see something negative. Better na lang to ignore what they say."
So Regine turns her mind to other things and there are loads of details to attend to as her own manager. "It's hard pala. I'm finding out things for myself how things run. It's very educational. So far, wala pa namang major problem."
Does this mean that she has less time now for the creative part of her career? She smiles and says, "Hindi naman ako ang nakikipag-negotiate with producers. I have hired trusted people to handle the business side. I tell them what I can and cannot do and they sit down with the producers."
The advantage of having a manager is that a performer can concentrate on her craft and let her manager do the long-range planning. Regine says that as early as six years ago, she was already making decisions about what she wanted to do. Primeline took care of lining up her options, and then she would make the choices.
Career plan
Regine reveals that in the past five years, there's never been a conscious effort to work on a career plan for her. The decisions had more to do with how many concerts or movies she would do in a year. Now that she's on her own, she still relies on her father and some friends for advice on major moves. The big difference is that the final decision is hers.
The Songbird has come a long way since we saw her perform in 1986 at Circus, Circus, a small music lounge at SM North Edsa, now known as SM City. The gangly singer was known as a probinsyana, whom her father would soak in a drum full of cold water to strengthen her lungs. Her voice was already powerful then but she acted insecure during her spiels. She was obviously not scripted but this was what endeared her to the audience. She spoke from the heart and meant what she said.
Today, she continues to work without a detailed script and reach out to her audience. That's why she always has a portion in her concerts where she leaves the stage to sing requests from the people in the audience. Her voice is still powerful but she has learned to control it and we are able to appreciate the nuances of her song. She is also more confident now with her spiels. Her English is more polished but she hasn't forgotten to use Tagalog when she talks to her listeners.
We asked her what changes she has noticed in herself after 14 years, and she replied, "As an artist, the biggest change has to do with how I interpret love songs. Because of my experiences, I'm more believable now. Before, it took such an effort and a lot of acting to sing about love."
Stronger person
What about as a person? "I think I'm stronger now," says Regine. "Marami na akong napagdaanan. And I get stronger with every crisis because I learn from my problems. Before, I was scared that I would be powerless when it came to problems. Kasi naman, you can't prepare yourself for these things. We don't know our strength until there's a need for it. Tapos when it's crisis time, kaya ko pala."
She cites the Ariel Rivera episode as a major crisis in her life. There were bad write-ups and accusations that she stole Ariel from Gelli de Belen. She retorts, "I'm not that kind of person."
That was the time she realized that "when God gives us trials in life, He has a reason. That's why I never run away from trials."
Definitely, so many things have changed in 14 years but one thing remains the same: Regine's level of performance continues to be at its peak everytime she performs. We saw an example of this when she did a concert at the Music Museum months ago despite a bad cold. She didn't play safe by changing her repertoire and tackling easy songs. She went on with her demanding numbers to the delight of her audience. It came to a point when we wanted to go onstage to tell her to rest her voice, that we had already heard enough.
The power of prayer
Recalling that concert, she says, "It was prayer that helped me that evening. I asked God, 'Please, Lord, sing for me tonight.' He answered my prayer. I wasn't the one singing that night. Someone else took over my voice."
But why does she do it? "Because I love to sing. I don't want to disappoint my audience. I'm proud to say that I have never cancelled a show since I started in this business. Kahat na siguro mamamatay na ako, kakanta pa rin ako. "
We asked her what she will wish for when she blows her birthday candles on April 22, and she says she usually wishes for small things. That, she says, is the advantage of coming from a poor family. Then she confides her fondest wish on her birthday: "Sana matuloy na talaga ang aking international album. Kahit na hindi maging hit, at least I can tell my children that their mommy cut an international album sometime in her life. Kahit na matanda na ako, gusto ko pa rin."
Then she makes one "little" addendum. She also wants a special someone who will be with her for a long time, "someone I can talk to, someone who will accept me for what I am and what I will become, someone who will stay by me and be my friend for the rest of my life!"
Happy birthday, Regine! We hope your two wishes come true.