[Guest Albums & Soundtrack]
[Regine Velasquez Albums & Single]
[List of Title Songs from all Albums]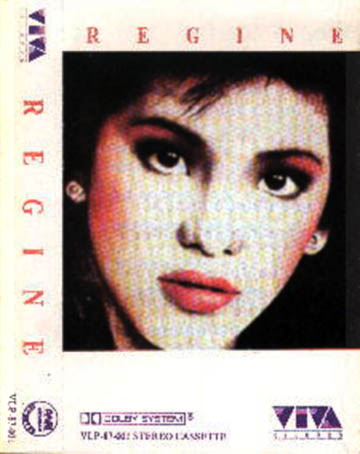 Regine (1987)
Regine's debut album at 17. Simple cover, heavy on the make up and no lyrics inserted.
For native Bulakena who's been to countless singing marathon, her album reflected her sense of singing style - kind of getting the picture how she belts out songs on contests?
Keno, a fellow singer and host mate of Regine in Teen Pan Alley, gave his 'Will There Really Be A Morning' composition to Regine's album. All mature tracks, except for the teeny bopper track, "Urong Sulong." A song which Regine will most unlikely tell men, because of her shy nature. "Isang Lahi," however, is the most diverse of all. It's message divulge positivity, unity and love of mankind; and stressing so much emotion and depth.
The album is more likely finding Regine's field in singing, there's not much experimenting of songs and sound as they are all ballad and quite dull for me.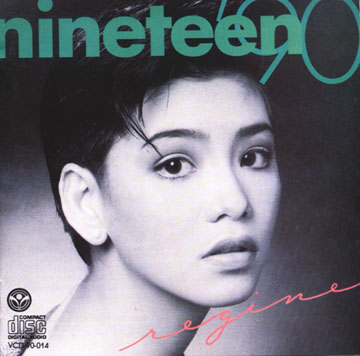 Nineteen'90 (1990)
After four years of absence from recording albums. A sophisticated new and improved look for Regine emerged, conquering the Philippine radio waves and TV. She was rediscovered by fans and for some they became an instant fan.
She deserve it for making our country proud of her "Asia-Pacific Songfestival Grand Prize" in 1989.
The album brought out a 'frisky' Regine, like recouping her energy after long silence. The songs are fantastic as her crystal clear and you-wanting-for-more-heavenly voice. She has every perogative to shine like a star and make such attention with talent such as that!
Each song is a masterpiece as Regine sings them. A perfect voice and strong lyrics like, "Narito Ako," which proves to haunt fans and non-fans to check her album.
The whole album became everyone's favorite for it's unique sound and sturdy vocals to match it, as it breaks into the 90s.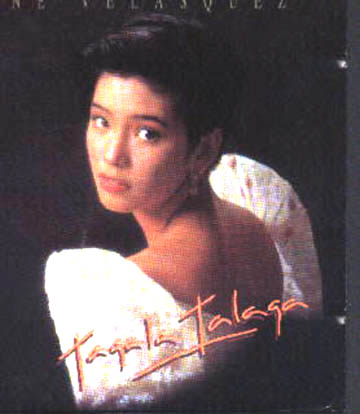 Tagala Talaga (1991)
Tagala Talaga reiterated the culture of songs we grew up listening to in the Philippines. Interpreted with so much originality, liveliness and sweetness, the album once again, captured the hearts of many Filipino.
Entering old-fashioned love songs, a touch of jazz, symphony and so much classic to it. Pinoy na pinoy as best describe the album. The feeling you get after listening to the album keeps you seated in pensive silence for a moment because of how well this compilation of songs were put into one and because of admiring a voice like Regine's.
As Regine said in a Dec. 7, 1991 interview: "
It makes me proud to interpret those songs popularized by various artists of recent generation and we really had a difficult time choosing which songs to feature in my album. The list is long and all the songs are real beautiful. I don't mind if I do more recordings of nostalgic songs in the future
."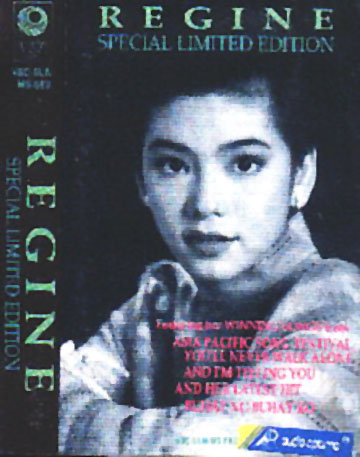 Regine Special Limited Edition (1991)
You will find it fascinating listening to her powerful vocals in this album. Deep within you, you'll feel a sense of proudness that Regine made it in the Asia-Pacific Song Festival. Very good-two thumbs up! And there's a phenomenal feel in this album. I like both entry songs which manifested her angel-like but certainly sturdy voice.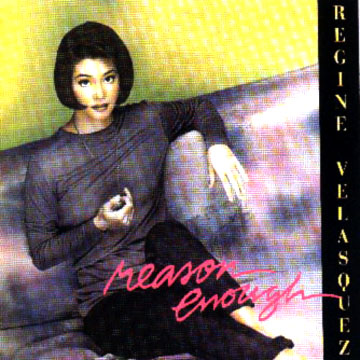 Reason Enough (1993)
Rising up to the modern and new set of tracks, but a bit mushy, probably the mood she wants to give out.
The lyrics are very balladic, high-pitched, and the sweetness Regine sets in gives every song a new high.
Janno Gibbs' "Tonight" is one of his if not the best but definitely very romantic composition in Regine's album - for couples on their wedding night or ocassions that apply to lovers.
"Slip Away" with Gary Valenciano was sung with so much heart and soul. Two finest voices merged into one.
With "It's Hard To Say Goodbye," Regine jumped at the chance to sing the duet with Paul Anka and was it magnificent or what?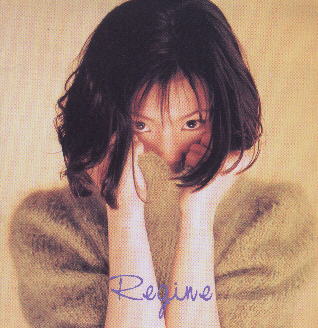 Listen Without Prejudice (1994)
Finally! An international dream album for Regine!! She made the right choice to collaborate with Asia's Superstar, Jacky Cheung with the song, "In Love With You." Two powerful and beautiful voices singing a captivating tune - a superb collaboration.
Regine emerged as a star in Asia as well!! By any means it helped elevate her career and she became the Asia's favorite and Asia's songbird.
This is an album with a presence of glint in her style and image, and as to the content, it's very balladic, pop rockish and certainly it brought out new dimensions of Regine's talent. The lyricist and the composers of this album came out with so much creativity and wonderful tunes such as "Follow The Sun" and particularly with "We Will Be Together," they added a rap artist to grace the song, and it's well done! "I Would Die For You" is a blend of pop and alternative music - something Regine, admittedly, never have done before. Regine truly sang it with such power without losing her musical poise.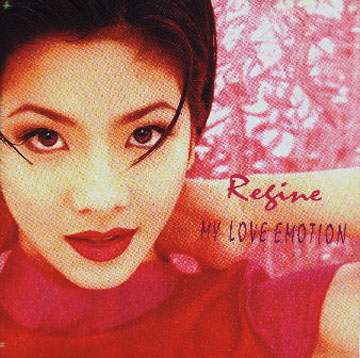 My Love Emotion (1995)
The album was quite disappointing for me. The songs are grim, the pop tunes was not included much. Basically, very murky, sentimental and glum music. For some who nabbed a copy of the previous album, this was so much different from Listen Without Prejudice. It offers the sweep of song expressed in a wide range of sentiments, amplified by Filipino sensitivity and distinguished by the touch of Asia's Songbird.
One thing to look forward to is: the first time you'll have a peek of her right ankle thorns and leaves tattoo.
The track "Someone To Love" is one of those mooning over tunes where a person is searching frantically for a plausible love. The implied messages were the usual...looking for a love that's real, going through pain, suffering from love and unrequitted love. For hopeless romantics.
I felt quite blase with this album.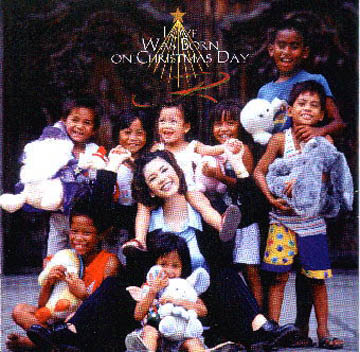 Love Was Born On Christmas Day (1996)
This LP fascinated me. It carried something magical in Regine's voice, something that will keep you glued to your system listening to it over and over again. The sweet angel voice was strong and very uplifting where Regine managed to put so much emotion and heart to lonely sad songs for the holiday season. It makes you feel how excruciatingly glum it is not to be in the arms of the one you love.
She interpreted it with a voice that was not too loud when hitting high notes, not deafening at all. The mixing, adjusting and engineering of this album made a fabulous work here. They should try to always do this kind of Regine album, you know, even the voice is too high it doesn't sound sharp on the system but soft and sweet.
Regine dedicates "Hold On To Your Dreams" to, I think Professor Dominic Sulistiano, as she has mentioned in her X'mas Special show at GMA-7 a few years back, while "Believe" is written for the 'Adarna, the mythical bird' animated film.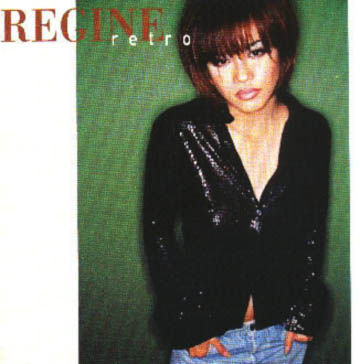 Retro (1996)
In Retro, Regine became so much involved with the songs and the packaging of her album. So basically, the songs are all revived from the old format, but were ingeniosly selected and the vocal arrangement was so much better, nicer and improved for this era. Expect her grooving and strutting her stuff with "Shake Your Groove Thing" and "Hotstuff" - these are the best dance hits. "Dance With Me" with Mommy V. was something to look forward to, not for the comparison, but how Mommy V's voice meshed well with Regine, and they both succeeded in rendering that tune. I was curious.
Quite a lot of vocal riftings will be expected on this album, yet it was skillfully done by the Songbird. It was the first time she did vocal riftings and placed it in an album since in the past albums there were much belting of songs. She created something away from her usual vocal sounding by adding spice and excitement to it. Well done, not chintzy at all.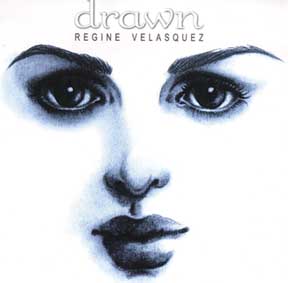 Drawn (1998)under Viva Records
Although it got bad reviews, the album manages to get a whopping triple platinum.
Expect a very R&B and sultry mood in this album. Some superb tracks are "Once In A Lifetime" and "Messin' With My Head," which is totally hip, semi-rap, fast song, with back-up from Shanice (who brought us "I Love Your Smile"). Again, CHEERS! on her vocal prowess.
Most of the tracks pertained so much on lost love, mooning for someone new to come along, derailed dreams, moping moods and a touch of unreciprocated love.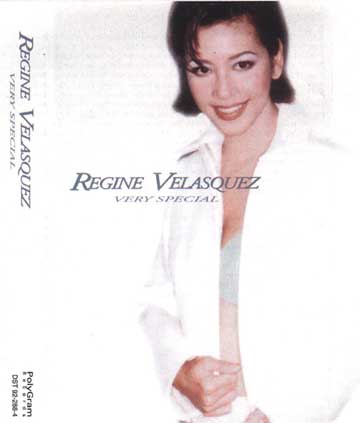 Regine Very Special (1998) - the best hits of Regine from PolyCosmic Records
version 1, version 2, version 3
I have 3 versions of R2K front cover
[Single]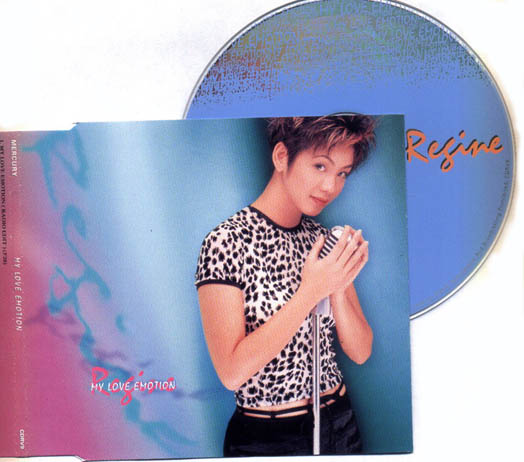 My Love Emotion (Radio Edit)
We'll Be Together
In Love With You (Karaoke Version)
My Love Emotion (Full Version)
**Thank you to Henry of Polycosmic Records/MCA Universal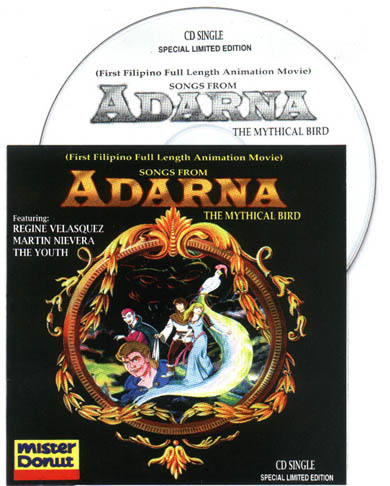 Touched By Your Love - Regine duet with Martin Nievera
Nagmamahal - Regine duet with Martin Nievera
Believe It - Regine Velasquez
Halakhak - The Youth
Believe It
Touched By Your Love
Nagmamahal
**Thank you to Henry of Polycosmic Records/MCA Universal.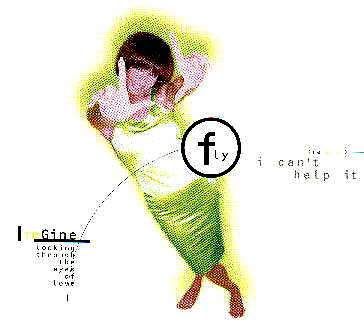 Fly (radio edit)
Fly (remix)
I Can't Help It (dream mix edit)
I Can't Help It (dream mix)
Looking Through The Eyes of Love
Copyright 1999
For comments, corrections, questions and contributions, please feel free to e-mail me:
wink@fastmail.i-next.net; blink33@hotmail.com